Assessment Tools
Build more effective relationships.

Would you like to maximize your work relationships? What if you knew what motivated people? How to communicate with them more effectively?
It's possible to have a stronger, more efficient work team. What's the secret? Everything DiSC. This video demonstrates the power of Everything DiSC and the impact it can bring to your company.
This video demonstrates the power of Everything DiSC and the impact it can bring to your company.
View the DiSC video or contact us to discuss how DiSC can make a difference for you and your team.
"Teamwork is the ultimate 

competitive advantage."
EVERYTHING DISC® LEARNING SOLUTIONS — WHAT IS IT?
DiSC is a very simple and intuitive model that's been helping people to connect better for over thirty years. Everything DiSC® model is made up of four basic styles: D, i, S, C . divided into three regions. The picture below illustrates the 12 different regions where a person's dot might be located.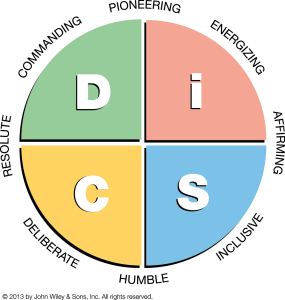 All DiSC styles and priorities are equally valuable and everyone is a blend of all four styles. Everything DiSC® assessments explore the style most used and its influence on workplace effectiveness. Once you assess these differences and harness the value, you'll have improved workplace communication, healthier organizations and greater employee engagement.
BUILD MORE EFFECTIVE WORKING RELATIONSHIPS.
Everything DiSC® tools are designed to help you understand yourself AND other people too. These solutions help you build more effective working relationships based on an understanding of different behavioral styles.
Everything DiSC Learning Solutions include:
Everything DiSC products (excluding Everything DiSC 363 for Leaders) are supported with training that uses online pre-work, engaging facilitation and contemporary video, and online follow-up to create a personalized learning experience. Everything DiSC 363 for Leaders combines the best of 360s with the simplicity and power of DiSC, plus three personalized strategies for improving leadership effectiveness. Online assessment Everything DiSC Management enables the leader to better understand their own management style and adapt to the needs of each person they manage. Online assessment Everything DiSC Work of Leaders provides a simple, three-step process to help reflect on how one approaches the most fundamental work of leaders: creating a vision, building alignment around that vision and championing execution of the vision. Online assessment Everything DiSC Sales helps salespeople connect better with their customers by understanding their DiSC sales style, understanding their customers' buying styles, and adapting their sales style to meet their customers' buying styles. Online assessment Everything DiSC Workplace is designed to be used with everyone in the organization, regard- less of title or role. It allows participants to understand and appreciate their own workplace styles, as well as the styles of their coworkers. The result is increased respect and better working relationships. Online assessment Everything DiSC Trainer – Become the "go to person" at your company for Everything DiSC learning solutions. You've participated in DiSC learning and now want to be your organization's DiSC leader. The Everything DiSC Trainer designation gives you:
Confidence to conduct Everything DiSC learning sessions
An immersion in the Everything DiSC model and research
In-depth knowledge of Everything DiSC
Experience customizing Everything DiSC Profiles, handouts, PowerPoint and video
DO YOU WANT TO FIND OUT MORE ABOUT HOW TO BUILD MORE EFFECTIVE WORKING RELATIONSHIPS?
Would you like your Team to:
Make better, faster decisions?
Tap in to skills and opinions of all members?
Avoid wasting time and energy on politics, confusion and destructive conflict?
Avoid revisiting topics because of a lack of buy-in?
Have more fun?
Read about The Five Cohesive Behaviors of a Team and Pat Lencioni's introduction.
COHESIVE TEAMS ARE THE ULTIMATE COMPETITIVE ADVANTAGE
Teamwork is the ultimate competitive advantage because it is so powerful and so rare. A high-functioning team can achieve its potential, resulting in a healthier, more productive organization. Additionally, improving teamwork is an important endeavor beyond merely helping organizations become more effective. It also reduces stress and dissatisfaction of the people who work in those organizations, which has a profound impact on the lives of their friends and family members as well.
WHAT ARE THE FIVE BEHAVIORS OF A COHESIVE TEAM?
Based on the bestselling book The Five Dysfunctions of a Team by Patrick Lencioni, The Five Behaviors of a Cohesive Team is a model and development program that guides intact teams through a journey to improve in five areas that are key to productive team dynamics: Trust, Conflict, Commitment, Accountability and Results.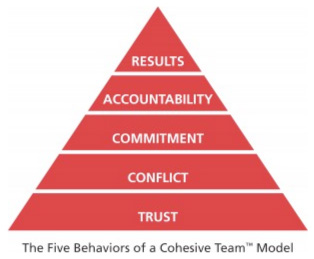 1: Trust One Another
Members of great teams trust one another on a fundamental, emotional level, and they are comfortable being vulnerable with each other about their weaknesses, mistakes, fears, and behaviors. They get to a point at which they can be completely open with one another, without filters. This is essential because…
2: Engage in Conflict Around Ideas
Members of teams who trust one another are not afraid to engage in conflict around ideas that are key to the organization's success. They do not hesitate to disagree with, challenge, and question each other, all in the spirit of finding the best answers, discovering the truth, and making great decisions. This is important because…
3: Commit to Decisions
Teams that engage in conflict around ideas are able to gain commitment to decisions, even when various members of the team initially disagree. That is because they ensure that all opinions and ideas are put on the table and considered, giving confidence to team members that no stone has been left unturned. This is critical because…
4: Hold One Another Accountable
Teams that gain commitment to decisions and standards of performance do not hesitate to hold one another accountable for adhering to those decisions and standards. What's more, they don't rely on the team leader as the primary source of accountability. This matters because…
5: Focus on Achieving Collective Results
Team members who trust one another, engage in conflict around ideas, gain commitment to decisions, and hold one another accountable are more likely to set aside their individual needs and agendas and focus on achieving collective results. They do not give in to the temptations to place their departments, career aspirations, or ego-driven status ahead of the collective results that define team success.
THE FIVE BEHAVIORS OF A COHESIVE TEAM IS THE MOST COMPLETE TEAM ASSESSMENT AVAILABLE
The Five Behaviors of a Cohesive Team assessment gives team members a sense of their team's unique strengths and areas of improvement. It's a tool that evaluates the team's dynamic across the five fundamental behaviors so members can decide what improvements are necessary for becoming a higher performing team. The assessment also serves as a powerful measurement for growth. By first taking the assessment at the outset of the development effort, the team will establish a baseline for the current state. Then – after the team learns and practices new skills – taking a re-assessment will provide valuable feedback about where the team is progressing and about where more focus must be placed. The Five Behaviors of a Cohesive team includes a DiSC behavior-style assessment for each team member, with the results presented on a single graph that plots the personality and behavioral "style" (Dominance, Influence, Steadiness and Conscientiousness) of everyone on the team. Personality and behavioral style is a key determinant for how people present themselves and interpret the words and actions of others. Gaining a better understanding and greater appreciation of each team member's style gives the team as a whole the ability to work together more effectively.
WATCH THE VIDEO OF HOW IT ALL BEGAN
Here is author of The Five Dysfunctions of a Team: A Leadership Fable discussing how the 5 behaviors of a cohesive team came about.
DO YOU WANT TO FIND OUT MORE ABOUT THE FIVE BEHAVIORS OF A COHESIVE TEAM AND HOW IT CAN HELP YOU IN YOUR BUSINESS?