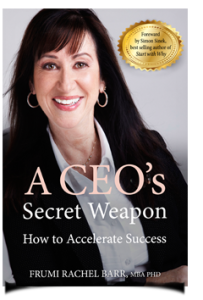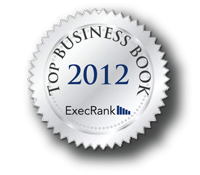 How many leaders truly know their cause and purpose in life and pursue it with a passion that makes others envious? Few. How many of those leaders translate that passion into their enterprise? Fewer still. Readers of A CEO's Secret Weapon discover how to do exactly that.
Frumi Barr employs the theory of projecting your inner self into the company. She harnesses the power of knowing your Why to implement solutions that work. Says Frumi, "Harness your inner passion—whatever it is—to become the most committed advocate for your cause that ever existed." With the help of A CEO's Secret Weapon, that is a realistic goal.
The book accomplishes this objective in 10 powerful chapters. Each shines a bright light on the most potentially disruptive and destructive issues facing business leaders and CEOs every day. Frumi deconstructs each. Then she shows just how to navigate around the rocks and shoals that can punch a hole in the hull. Chapter 4, High Stakes Conversations, for example, shows how anyone can harness dissention and turn it to their advantage. Have an aggressive subordinate? Want to turn that aggression into a productively assertive leader? Read on. Indeed, High Stakes Conversations leaves nothing to chance that could derail the success you deserve. Frumi shows you how. The other 9 chapters are just as essential and produce the same phenomenal results.
But wait. There's more. The book uses case studies to illustrate ways to best implement the Leader's passion for their cause, purpose and Why. Peppered throughout the book are real life examples of the most confounding issues that face CEOs and what they did about them. Some succeeded; some didn't. Frumi dissects what went right and what they could have done to achieve a different outcome.
A CEO's Secret Weapon is 51,000 words of extraordinary commentary about what's bugging today's leaders and what they can do about it. Certainly, CEOs need to know what Frumi Barr says in this book. Along with business, the same issues confront leaders of most organizations, be it nonprofits, military, government, religious or others. Leading and managing is a contact sport. Whether you lead a combat fighter squadron or a group of CPAs, sooner or later you'll need to strengthen your team's cohesiveness (Chapter 7, Making Your Why Come Alive) in the face of new challenges. Frumi shows you how.
Dr. Barr walks the talk. She has been the CEO of three enterprises and the CFO of two others. She has an MBA and a Ph.D. as well as multiple certifications in related specialties. She serves as personal confidante and coach to a number of high-profile CEOs. Dr. Barr is in the management trenches every working day.
Read and study A CEO's Secret Weapon. Harness your personal power that comes from knowing your own cause, purpose and Why. Then use the passion that comes with that knowledge to realize your organization's fullest potential. Don't wait another minute. Achieving your most complete personal success is just 10 short chapters away.
Or, If You Have my Business Card – Get a Complimentary Copy
How to Download eBooks to Different Devices
"Best Business book of 2012

– ExecRank.com."